It's tough to admit it, but sometimes you just hate your house. Maybe it's too small, or outdated, or it just doesn't function the way you need it to. You wonder if it's time to move. Maybe you think about remodeling. That's just what happened with this couple in Columbia.
They absolutely loved their neighborhood and being active in their community. Moving was not in their hearts, so they considered a major remodel to open up the entire first floor and fully remodel their kitchen. They seriously considered these big changes, but the reno would be costly. When I met with them, we discovered that they could get a high-functioning home that they wouldn't even recognize when it was done by only making cosmetic changes…well, almost only. The result would be nothing short of incredible.
The only structural change we made was the removal of a post in the main living area. That thing had to go! It dominated the entire space and interrupted the view of the fireplace, which could be showstopper if given the opportunity. With that one change, the 1,000-square-foot main floor was ready for new flooring, paint, lighting, and a kitchen refresh. Brightening up the areas tremendously and giving the home a calm sense of cohesion made way for something really important to this couple: their beloved art collection.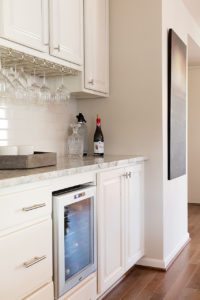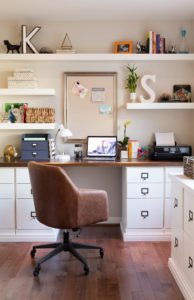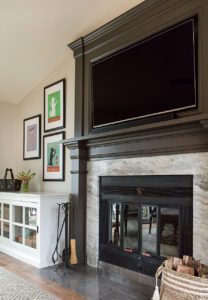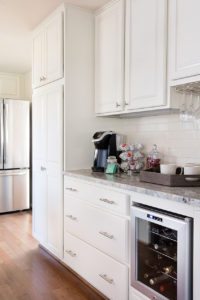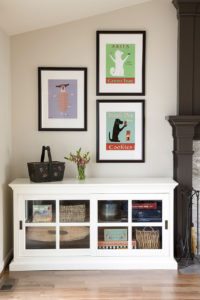 Their pieces were part of a blended collection acquired by both partners over a period of 20+ years, crafted by friends and local artists whom they had come to know. We reviewed each piece (including some that had been in storage for years) and talked about what each piece meant to them. Together we chose pieces that would work in tandem—or in playful contrast—to be grouped in the different areas of the main floor. There would be something to thrill them in every space. A neutral palette for the wall color and furniture honored the art. To add character and richness, I chose layered textures for the various fabrics and rugs and a warm grayed-down brown paint color for the fireplace.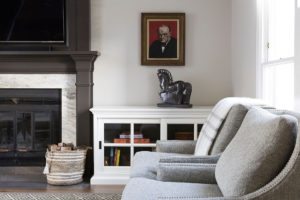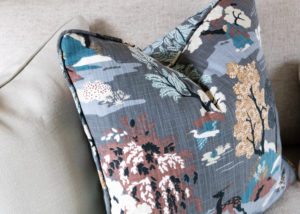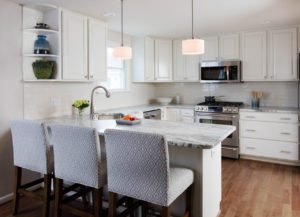 This project was a true metamorphosis. The client told me, "I'm still kind of freaked out about how gorgeous everything it is." As for me, I'm amazed by how we turned their 1980s home into something completely modern and nearly unrecognizable. Now they can treasure their home and can see themselves living there and participating in the community for many more years ahead.
If you're feeling frustrated with your home, let's talk about how you can love your home again. Learn about The Essential Consultation, a service designed to establish your master plan and design direction, or contact us now.